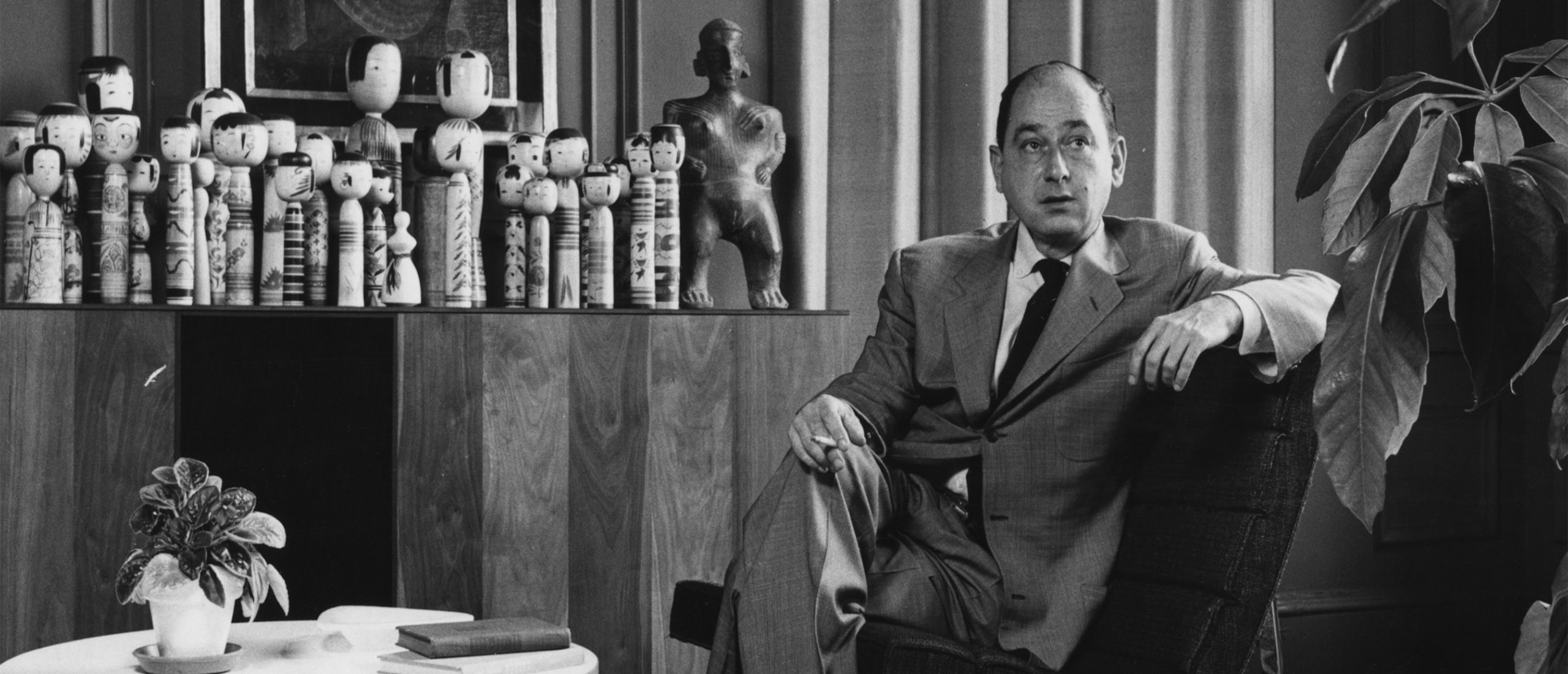 Photo by Herman Miller
DESIGNER IN FOCUS
GEORGE NELSON
Original in Berlin presents Designer in Focus: This new section of our in-house magazine gives an insight into the life and work of some of the most influential designers of the Mid-Century Modern era. In a short portrait we will elaborate on each designer's individual career path as well as their most iconic designs: What are they best known for? What makes their work remain so exceptional and relevant - even up to the present day? This edition features George Nelson, who is best known for his independent spirit and visionary designs.
Photo by Herman Miller
It was a coincidence that set the stage for a remarkable design career: In 1924 George Nelson was forced to seek shelter from a rainstorm, eventually stumbling into Yale's architecture school. A young student at this point and without having a clear idea of what he would be interested in, he came along a presentation of watercolor works. As Nelson would later state, it was this seemingly trivial incident that eventually kindled his passion for design: "They were the most exquisitely beautiful and exciting things I had ever seen in my life. I fell in love instantly with the whole business of creating designs."
In the time following Nelson started pursuing a career in architecture before he eventually engaged in interior design. During his career he shaped the course of Mid-Century Modern furniture for several decades. Believing in the concept of good design being an essential part of good living, Nelson encouraged a simple, straightforward approach to design that was functional yet sophisticated.
His actual renown, however, is fore and foremost based upon his uncompromising attitude: For Nelson, a successful design did not only imply the coexistence of esthetics and functionality, above all it was a commitment to stay true to one's principles.
Eventually it was this very clear-sighted, almost uncompromising attitude that brought to light some of the era's most iconic pieces. Below you will find a selection of items which, among others, built Nelsons reputation as one of the era's most ingenious and influential designers.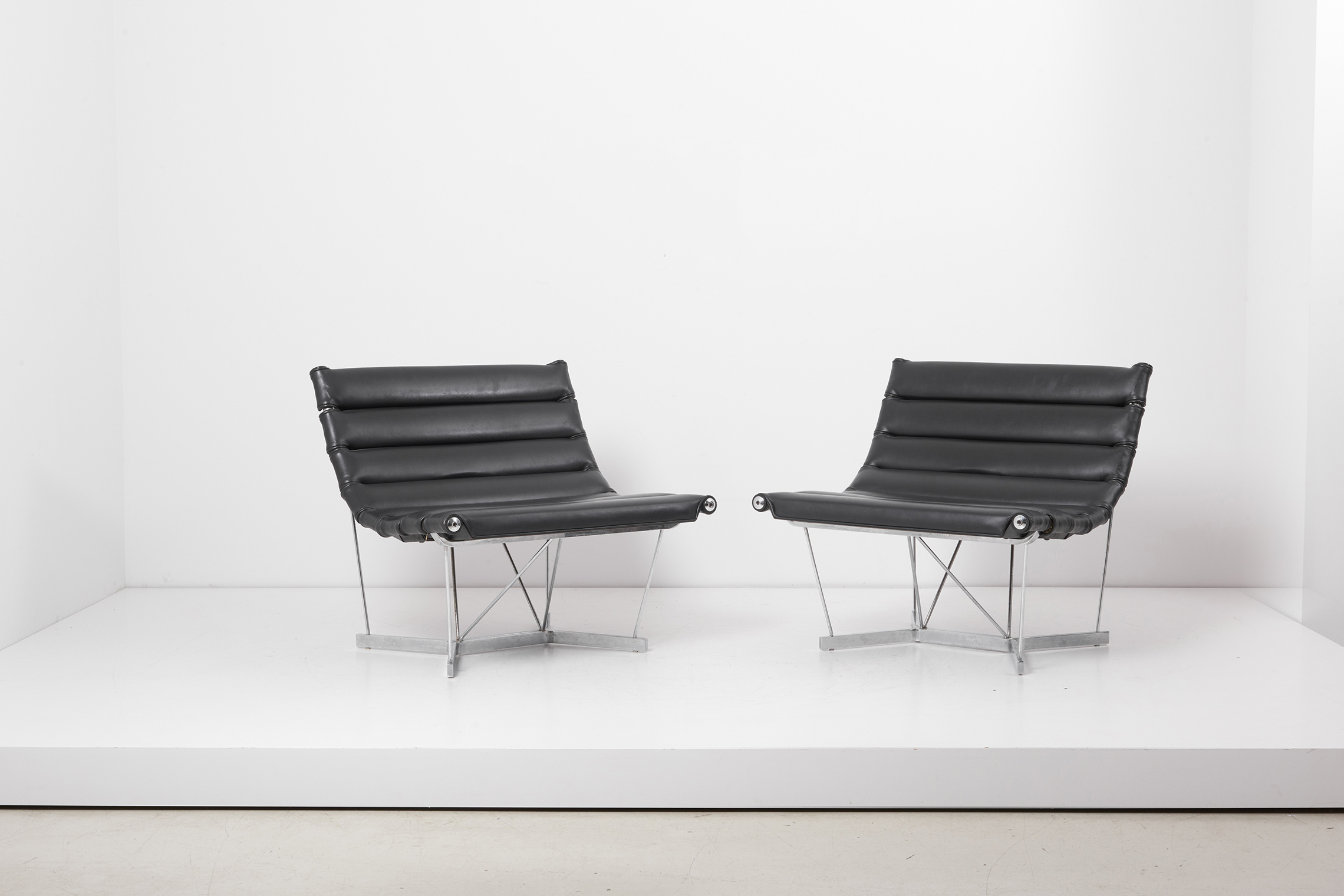 Catenary Chair by George Nelson for Herman Miller, USA
This iconic piece of furniture stands out due to its unique leg structure which is strongly distinct from traditional designs. The contrast of shapes is another key element to this item: While the steel rods are being complexly intertwined, the elegantly curved shape of the seat creates an effect of weight- and effortlessness. Another contrast is created by the interplay of materials: By adding light steel legs to the dense leather of the seat, Nelson creates a clearly contoured yet lightsome shape. Today the Catenary Chair is not only valued in virtue of its progressive design but also due to its strongly limited availability: The production of the chair, which was only made in small quantities, was limited to a period of five years.
---
Platform Bench by George Nelson for Herman Miller, USA
Simple yet elegant: George Nelson's platform bench is one of his earliest designs for Herman Miller. This piece can be considered a landmark of modern design, not only due to its clean and straightforward use of forms but also because of its multi-functional approach: Equally seat and storage space it can serve as a bench, shelf or low table. Its versatility makes it broadly applicable and ideal not only for hallways but also offices, living or dining rooms.
---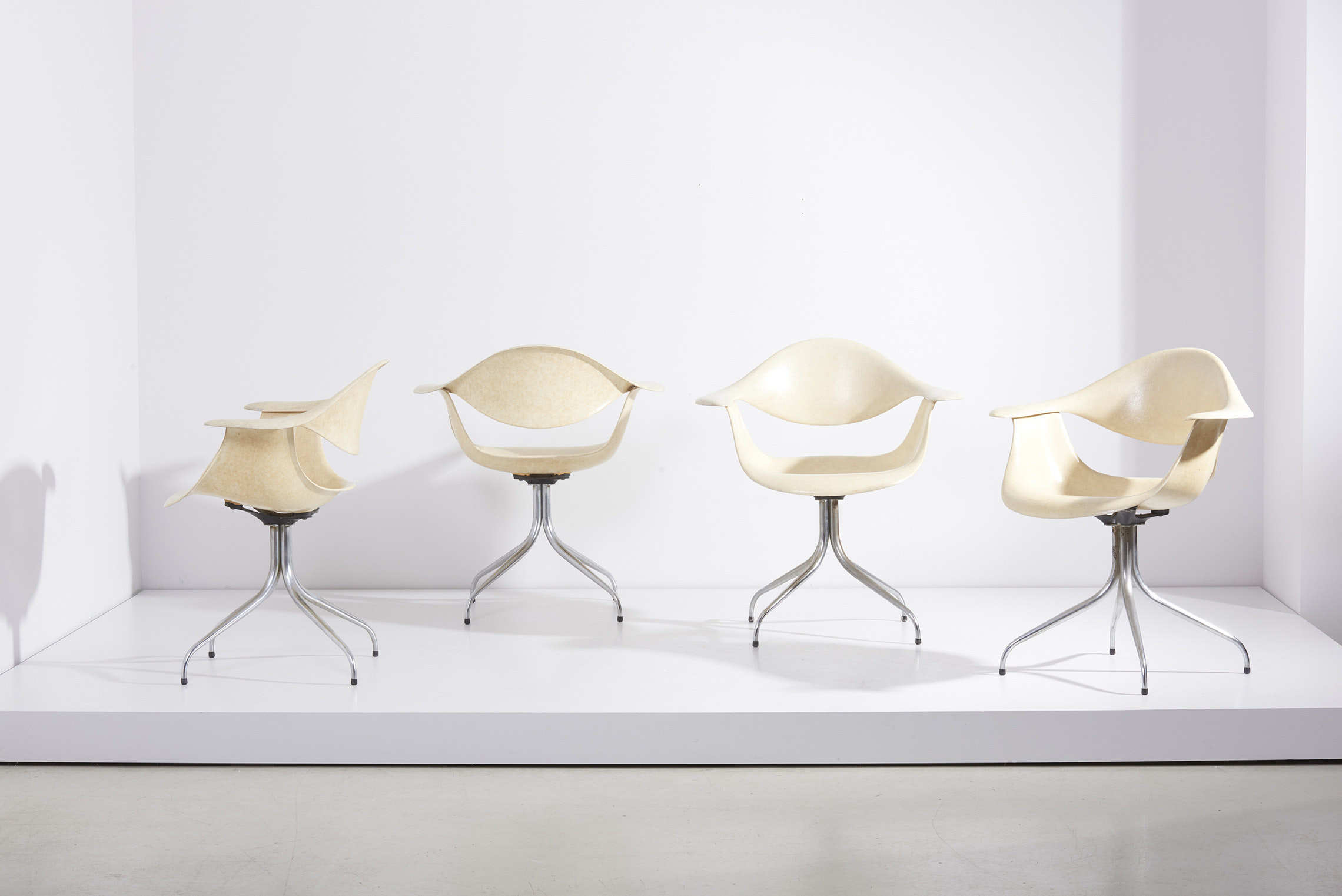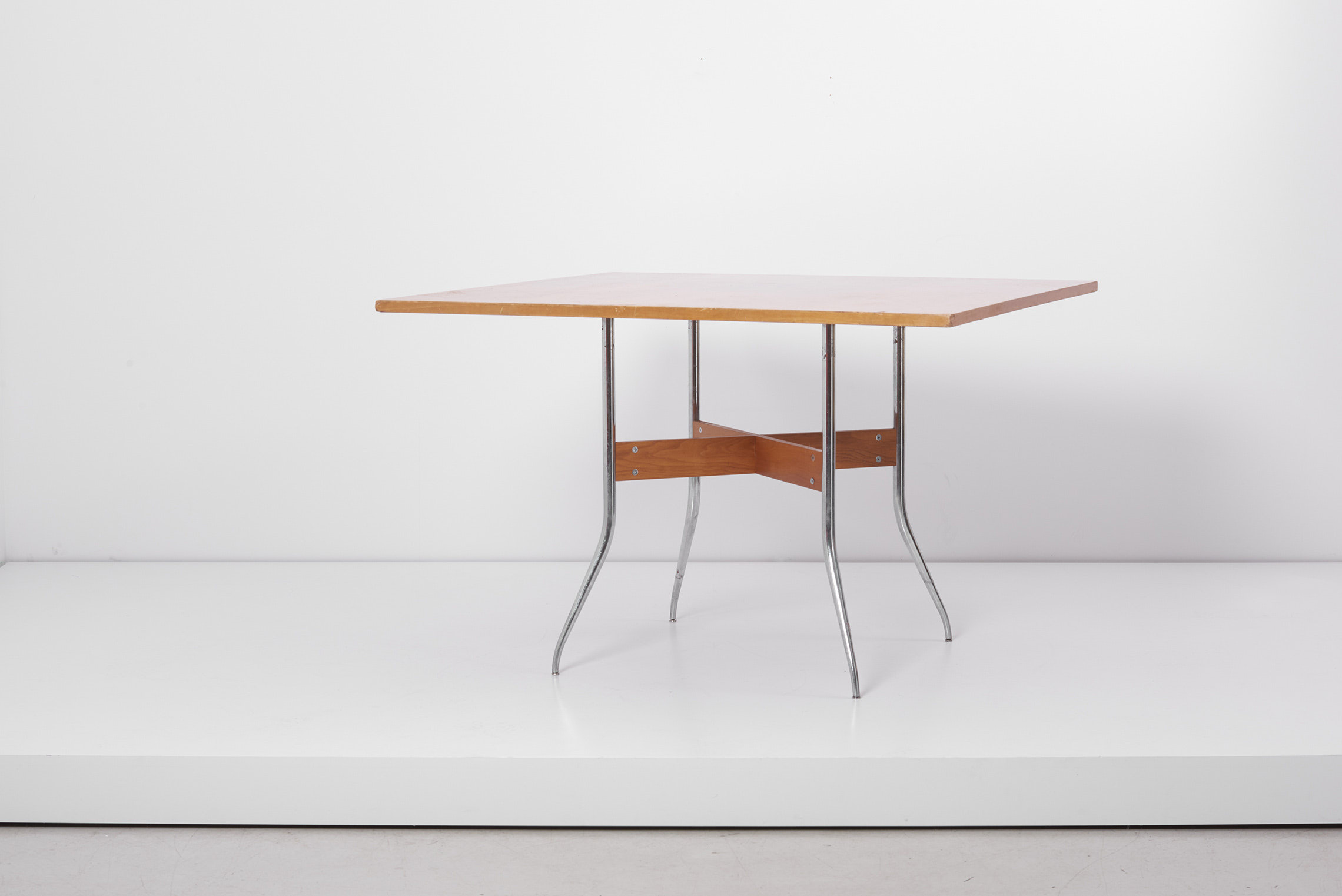 Swaged Leg Chair and Dining Table by George Nelson for Herman Miller, USA
The Swag Leg collection is hallmarked by a sophisticated and lightsome shape common to Nelson's designs. The molded fibreglass of the seat creates a sleek and smooth look which is contrasted by the sculptural, atypical shape of the back. The Swagged Leg Group not only includes armchairs but also desks and tables, all of them marked by the characteristic swag-tubular base. The name of the collection derives from the term swaging, which describes the process of tapering and bending metal tubes by the use of pressure. This method proved to work best for what Nelson had in mind: A strongly evocative, sculptural furniture line with an elegantly curved metal base that provides both flexibility and comfort. Following the idea of furniture not only being well-designed but also functional, the seat of the swag legged chairs provides both stability and comfort. By separating the seat and the back piece of the chair, Nelson creates an interesting shape that is airy due to the small slot and yet perfectly fits the body with its curved seat rest.
---