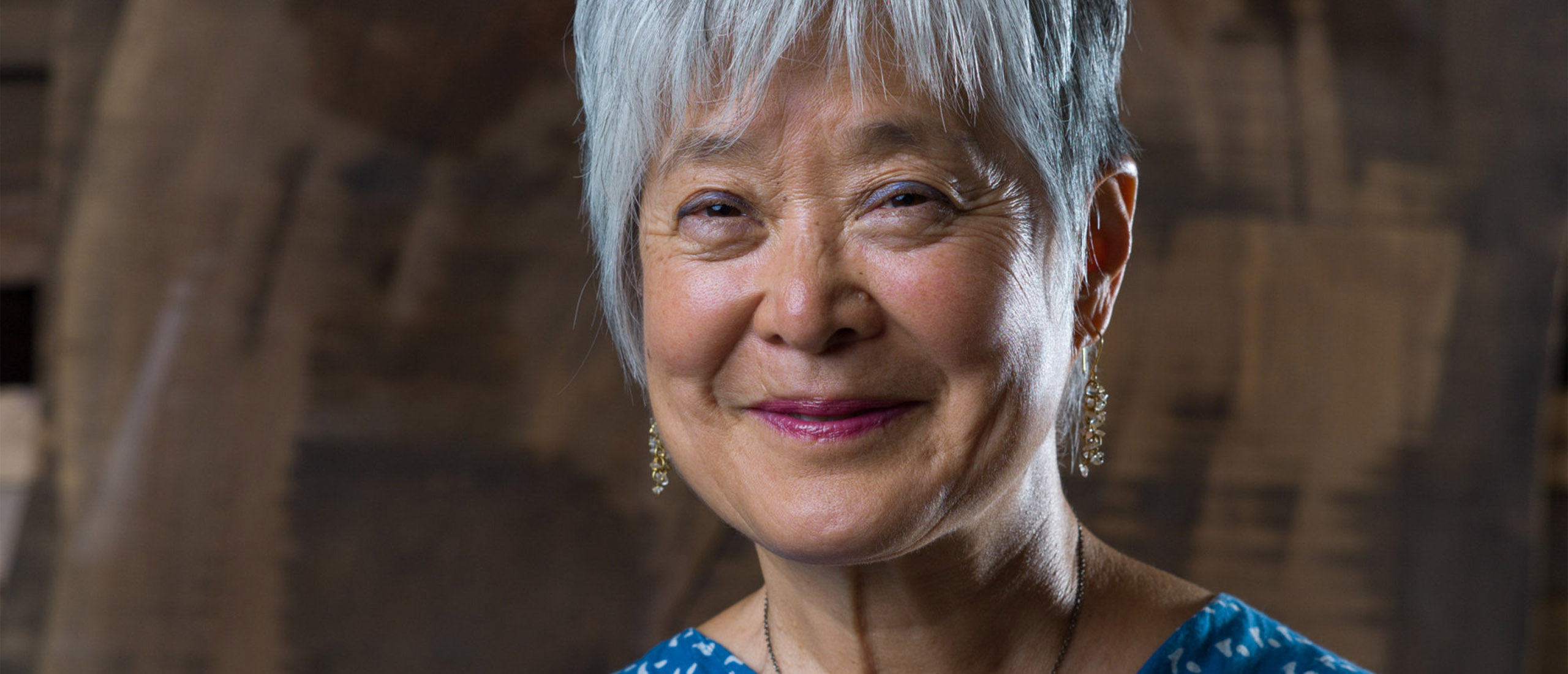 Q&A
with Mira Nakashima
Our Q&A section features well known artists and designers. In 21 short answers they share with us the little things that define their work as well as their personal life: How do they work? Who or what is their source of inspiration? What's the best piece of advise they've been given? And what's on top of their bucket list?
This edition features Mira Nakashima, daughter of legendary designer and woodworker George Nakashima and president of Nakashima Woodworkers. After graduating in architecture from Harvard University and later from Japan's Waseda University she started to engage in her father's woodworking studio. It was in 1990, the year of George Nakashima's death, when Mira found herself faced with two choices: To close or to carry on her father's business. In the time following, Mira who was originally aiming to study music, decided to entirely devote herself to the process of designing and creating furniture. What originally started as a part-time work hence evolved into a full-time position. Mira, however, did not only take on the tradition-steeped Nakashima business but also broadened its range: By keeping up the manufacture of items such as the grass-seated chair she maintained the most iconic designs while also establishing new ones such as her own collection called "Keisho" - the Japanese term for continuation or succession.
---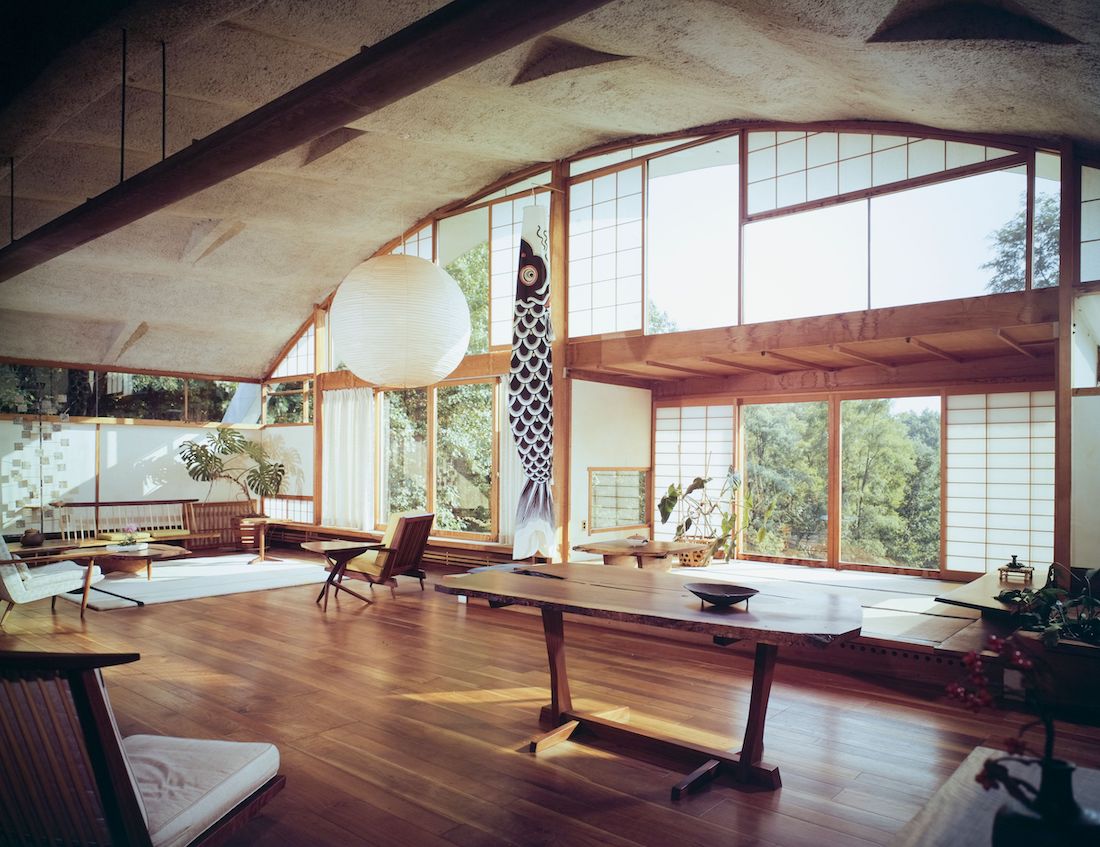 Conoid Studio Interior, built in 1957
1. Who are you and what do you do?
My name is Mira Nakashima and I have worked at George Nakashima Woodworkers since 1970, under my father until 1990 and with my co-workers until the present day. I was born in Seattle in 1942, incarcerated at Minidoka Idaho during WWII, and came to New Hope, Pennsylvania in 1943 at the invitation of Antonin and Noemi Raymond. I have lived here most of my life, except for four years at Harvard University, three years in Tokyo where I studied Architecture at Waseda University and 3 years in Pittsburgh, Pennsylvania. I have four children and seven grand-children in different parts of the country and Canada. After my father died, I took over as Head Designer, have worked with several assistant designers since 2007, and now share the head designer role with my current assistant. My General Manager has thankfully taken over most of the day-to-day problems of overseeing property maintenance and running the woodshop, but I still try to be here to approve wood selection, shop and conceptual drawings, shop layout and procedures every day.
2. Tell us how you work.
We try to work as if George Nakashima were still here supervising us. We select logs, mostly from local sources,oversee their milling to specific thicknesses for different uses, air-and kiln-dry, store, and hand-select each piece of wood for each job. When a client request for a specific size and kind of furniture is received, we either go via a database through the lumber-pile, but mostly do an onsite visual search, relying on the memory and experience of our more experienced employees. In the old days, people would come in person to select their wood, but nowadays, we mark out potential planks in chalk with dimensions and send photographs with descriptions and pricing via internet. Many people still wish to see their wood "in person" which is indeed a better experience, and these are the only ones who have been allowed to visit since the COVID shut-down in March 2020
3. What role does the artist have in society?
I believe that Art is a universal, tangible way to World Peace, and that artists need to communicate their vision of Beauty as a window to the Divine and to Human Unity
4. Explain your art in three words.
Nature, Form, Spirit
5. What's your strongest memory of your childhood?
Visiting my God-mother Mildred Johnstone, who took me to concerts, taught me Modern Dance, encouraged me to play the recorder, and took me to the Trapp Family Singers' camp in Vermont. I am most grateful to her for expanding my horizons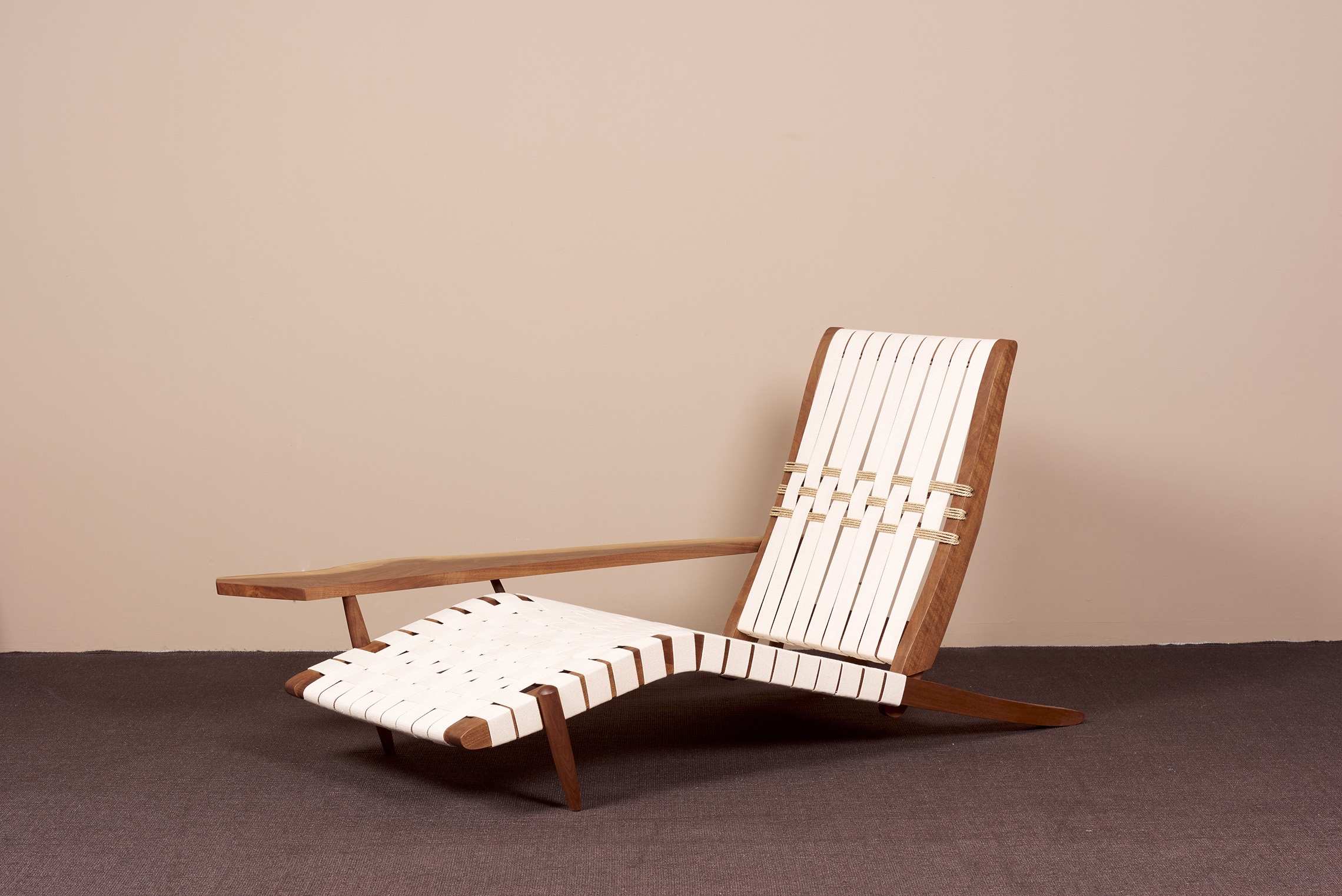 Long Chair in Walnut by George Nakashima Studio, USA - 2021
6. What has had a lasting impact on you and your work?
Being encouraged to study different languages like Greek, Russian and French, and playing different musical instruments in high school. Studying Architectural Sciences and Japanese at Harvard College, studying Architecture at Waseda University via the atelier system with my Japanese classmates, and working alongside my father for 20 years.
7. What jobs have you done other than being an artist?
I did some free-lance translation work in Japan, some free-lance interior design in Pittsburgh. I have played flute since high school and guitar since 1970, but only got paid for playing once or twice!
8. What and who inspires you?
Nature always inspires me - whether it is a beautiful sunset through the trees, a golden sun rising from the night, snow falling silently to envelope the earth in a thick white blanket, tiny flowers bravely poking their heads up through the snow, or the glorious leaf colors of Autumn.
Good music inspires me. My God-mother took me to the Bach festival in Bethlehem, Pennsylvania when I was very young, my first piano teacher started me off on J.S. Bach preludes, I once performed Bach Sonatas for flute, and Bach is still my favorite composer. When we were in Pittsburgh, I came to love the guitar-accompanied Catholic services and played my guitar with the folk choir at a nearby church until last year. We used to travel together for a yearly pilgrimage to Weston Priory in Vermont to attend services and listen to the monks sing.
I sang with the Radcliffe Choral Society for four years at college, one of my grandsons sang with the Princeton Boychoir when he was younger,so I love to sing and listen to choir music. Choir music is the embodiment of the whole being greater than the parts - even if one choir member alone is not of solo caliber, combining forces with others is a very powerful and wonderful thing - similar to the way we make furniture, which requires a collaborative lack of ego in order to create beauty for the common good....but a good leader is essential.
9. Name something you love.
Chocolate, cherries, fresh bread, sharing a good meal and good wine with good friends. Chamber music, choral music, ethnic and American folk music, ballet. Peace and Quiet.
10. Name something you don't like.
Pornography, war, violence and the random killing which seems so common nowadays
11. Name some artists you admire.
Georgia O'Keefe, Frida Kahlo, Mildred Johnstone, Isamu Noguchi, Harry Bertoia, Ben Shahn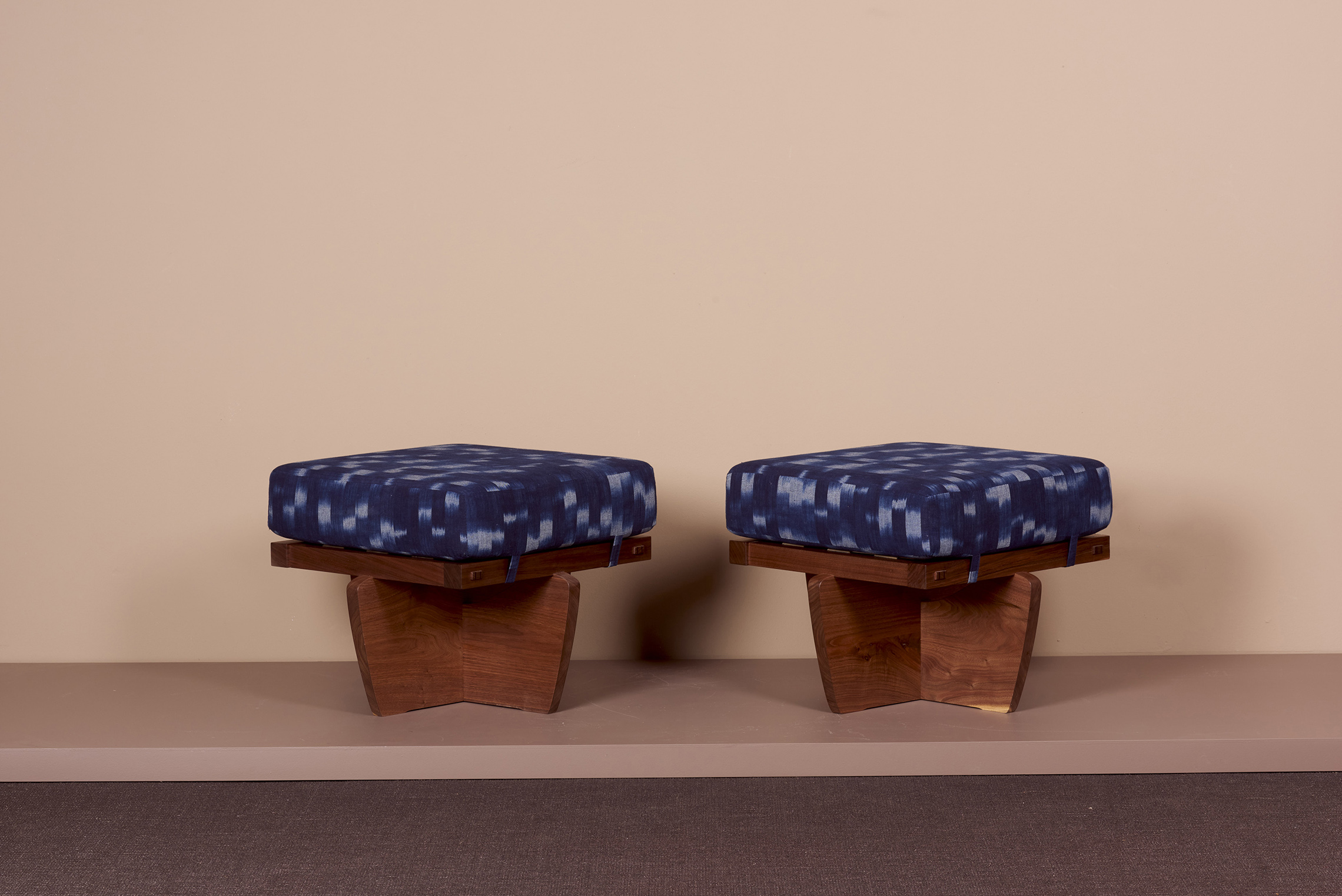 Pair of Greenrock Ottomans by George Nakashima, USA - 2021

George Nakashima Studio Conoid Bench in Walnut, USA - 2021
12. Favourite or most inspirational place?
The Monastery of Christ in the Desert in Abiquiu, New Mexico which my father designed and built in 1970, surrounded by the multicolored walls of the Chama River Canyon. The chanting, deep reverence for God, Nature and for their fellow residents is always restorative. The Grand Canyon and Sedona are totally awesome, revealing the forces of Nature and age of our planet to put our small, short human lives into perspective.
13. What's the best piece of advice you've been given?
"Keep your nose clean and create a little beauty around you" - George Nakashima
14. Which book did you read lately and which one has shaped you the most?
I finally finished "The Understory." The Secret life of Trees and Song of Trees are yet unfinished, gifts from my husband. I think he is trying to make me better understand and respect the lives of trees and the role they play in the life of the planet. I have trouble getting through newspaper and magazine articles, not to mention internet news, and not enough leisure time to read for pleasure
15. What's on top of your bucket list?
I would love to go to Macchu Picchu and Antarctica, but I need to organize a plan for the future of the Nakashima Foundation for Peace and Nakashima Woodworkers
16. Who would you like to be for one day?
James Galway
17. Which furniture did you last buy?
I have never bought furniture, as my father made it all for me
18. What's your favourite place at home?
Our Living Room, which houses the wood-burning fireplace, a CD player, my piano, and our "Butsudan" family shrine
19. What advice would you give your teenage self?
I would probably tell my teenage self that it's ok to rebel, instead of resolving to be obedient.
20. What would you like to learn?
I would like to learn more about music and really study it in depth
21. Your top 5 Record Albums ever
Jean-Pierre Rampal: Claude Bolling Trio for Jazz Flute, piano and Bass
Any Weston Priory recordings featuring Gregory Norbet
The Great American Folk Album: "If I had a Hammer"
Jesus Christ Superstar, 1970 original cast recording
Yo-Yo Ma: 6 Bach Suites for Unaccompanied Cello
James Galway: The Celtic Minstrel
Click here to listen to Mira's favourite music on Spotify
---