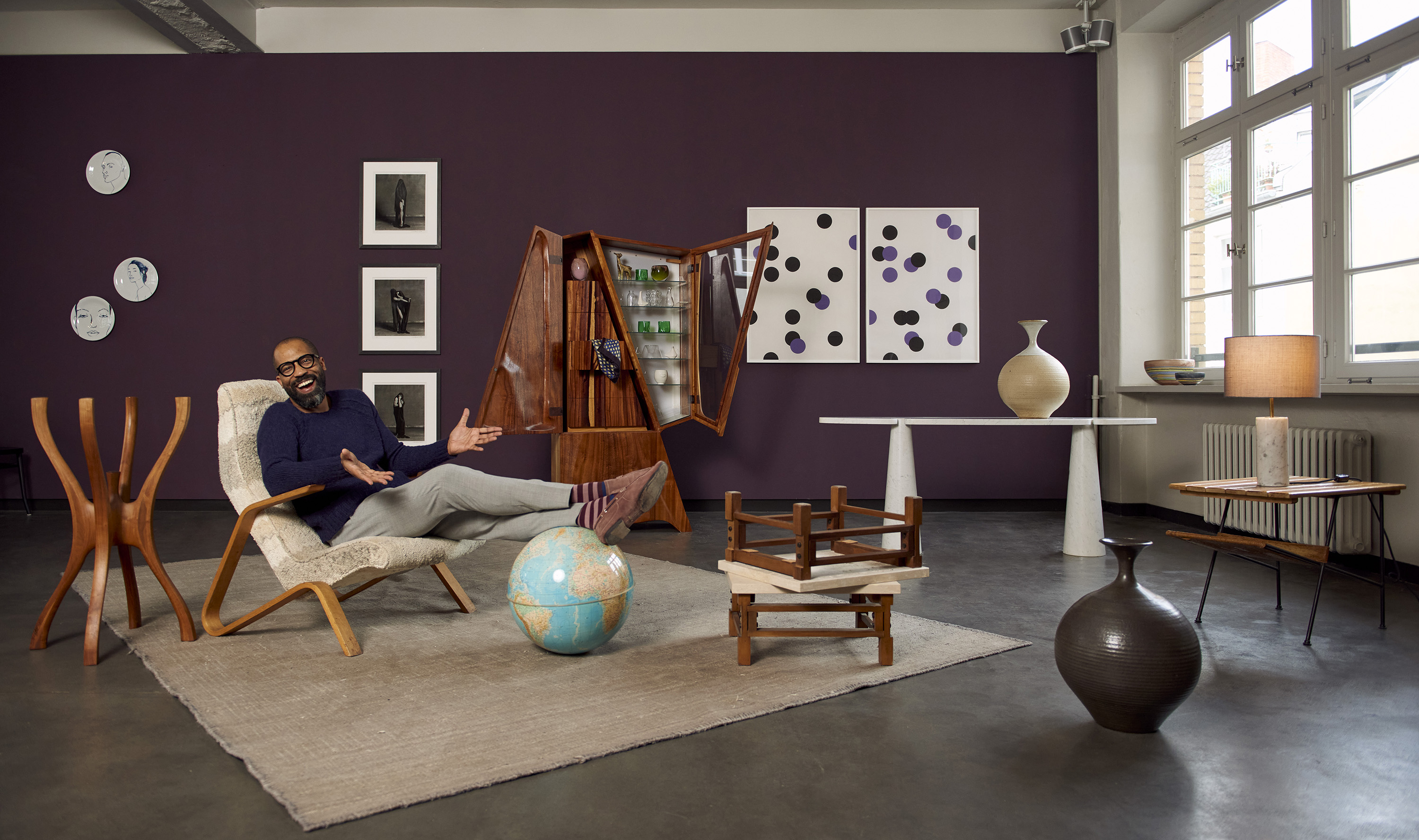 Photo by Jacint Halasz
SELECTED BY
Chris Glass
In our newly founded section Selected by sought-after artists and designers tell us about their favorite items among our assortment of Mid-Century furnishings. Our first guest is interior designer and Soho House Membership Manager Chris Glass.
Photo by Jacint Halasz
Before becoming the first Membership Manager of Soho House Berlin, Chris Glass worked in all sorts of industries. Among others he ran a restaurant in Manhattan, worked at a online shop for nishe cosmetics and performed as a singer on stage. The interaction between people seems to remain an essential element in Chris career: Since 2017 he has been working as an interior designer, establishing unique projects such as aptm (short for "a place to meet"). What is the idea behind aptm? Glass wanted to create something that's more than just a place to stay overnight. And indeed the space turns out to be a one of a kind experience: Set in a hidden courtyard in Berlin-Wedding aptm resembles to a living gallery featuring interior products that can be purchased. Moreover the space also aims to connect people and create memories within a unique setting: "I think of myself as a curator," says Glass. "I curate spaces, communities and moments. I want my guests to feel as if a good friend with a superb sense of interior design has given them the key to his apartment." Hence aptm also serves as a unique event space hosting intimate private dinners, parties or workshops. Asked about where Glass draws his inspiration from he names traveling as his main source: "Travelling is my salvation – and my university of life. It not only gives me insights into different cultures, it also teaches me what it means to be human. The places I visit and the experiences I collect there – that's what shapes me."
---
Console Table by Angelo Mangiarotti & Set of Two Studio Pottery Vases by Bob Kinzie
Italy - 1970s / USA - 1970s
When asked about his favorite items of our Mid-Century collection at Original in Berlin, Glass' predilection for elegant and timeless items becomes apparent. Among his selection: a Console Table in White Carrara Marble by Angelo Mangiarotti, a rare masterpiece of 1970s Italian furniture design. It is the contradiction of the weighty material and its light visual appearance that intrigues Glass: "Massive Carrara marble seemingly floating in air makes this piece so magical. It reminds me of a bridge connecting two continents."
About the Two Pottery Vases by Bob Kinzie for Stoneware Designs CA Chris says he loves the play with scale in design, "stretching the edges of reality with oversized pieces like these two." Moreover, "the precision and care that it takes to create pottery this size is second only to the imagination of the potter."
---
Grasshopper Chair by Eero Saarinen & Two Side Tables by Gianfranco Frattini
USA - 1950s / Italy - 1950s
When asked about his choice for an early vintage iteration of the Grasshopper Chair, Chris explains that a great lounge chair is a staple in his design work. The simple, unadorned yet elegant aesthetic of this item makes it a classic among Mid-Century furniture designs. However its appeal is not only due to its sophisticated design but also to the associations which come along with. As for Chris this upholstered model and its multicolored pattern revives fragrant memories of "lazy days in front of the fire with a good book."
The Grasshopper chair is complemented by another pick of the Original in Berlin collection: A Pair of Side Tables by Gianfranco Frattini. "Travertine", Chris explains, "is a material that enchants me because it's so unassuming. Paired with these brutal wooden legs, it becomes rough and wonderful."
---
Studio Cabinet by Charles B. Cobb
USA - 1980s
Unlike the previous items this Studio Wall Cabinet by Charles B. Cobb features a quite unusual, unique shape. Chris explains that what he loves about studio pieces is the way "they force us to stretch our imaginations. This one has so many extra tricks that it is destined to be a conversation starter."
---
Pair of Lounge Chairs by Harvey Probber & Wrought Iron Side Tables by Arthur Umanoff
USA - 1950s
For Chris, the plain look of these elegant grey Harvey Probber Lounge Chairs is reminiscent "of visits to the dentist as a kid. To my grown up self, they whisper comfort and restraint."
A Table Lamp in the Manner of Florence Knoll goes along with the discreet, elegant design of the chairs and the marble lampshade complementing the color of the seats. The Side Tables by Arthur Umanoff, in turn, add a warm note due to their wooden slats. Chris likes to imagine the life these tables had before now, picturing them "quietly holding reign in a single story house in Palm Springs and playing host to current issues of Life Magazine."
Related Products